The best time to travel the Holland Track is during Autumn and Spring. Spring is best because the wildflowers are at their best and the track has had time to dry out a bit after the winter rains. It is generally not so muddy, the days are warmer and the nights not too cold, and there is less likelihood of rain. Unfortunately, these days the track is in a highly degraded state and if there is unseasonal rain the track becomes even more difficult to travel and should only be attempted by experienced four-wheel drivers. So we advise:
Travel during the milder months.
Avoid midsummer months as it is uncomfortably hot.
Avoid mid-winter when it will be cold and wet.
At any time of the year, we would recommend waiting at least 2 weeks after heavy rain to allow the track to dry out. It is not so much that you won't get through, but it can be quite muddy, and there has been a lot of track damage already in low-lying areas.
Before you travel, please check out this website. It is for Mount Holland, which is part way along the track, at the Holland Track/Marvel Loch-Forrestania Rd intersection. If rain is indicated, you are best not to travel. You could be in for more grief than you bagained for. In the last few years, there has been severe damage done to many vehicles travelling in wet conditions.
See weather and forecast by clicking here 
Please watch out for other people on the track as it is almost exclusively single lane and may be busy especially at Easter and September/October school holidays.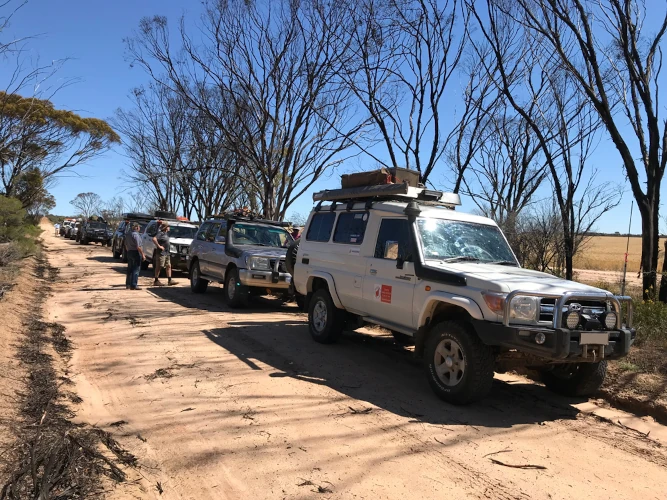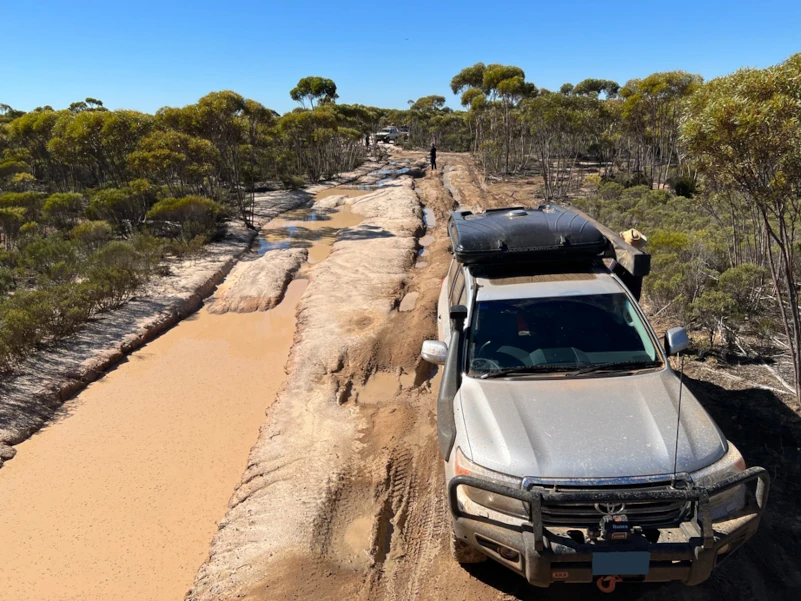 The 28/28 Rule
In the interests of trying to maintain the track in better condition, we would like all travellers to adopt the 28/28 Rule. Please reduce your tyre pressures to 28psi and use UHF radio channel 28. The lower tyre pressures will help to protect the track and if everyone uses channel 28 there is a greater chance of you becoming aware of other travellers in your vicinity.
If you need any more information please contact us.We wish you an enjoyable trip along the Holland Track. Your report after you travel the track would be welcome. Please take some time when you get home to contact us regarding track conditions and other points of interest.
Trailers
Although some people do take trailers, we recommend against it to avoid damage to the trailer. In places the track is very narrow and passing oncoming traffic can be a challenge.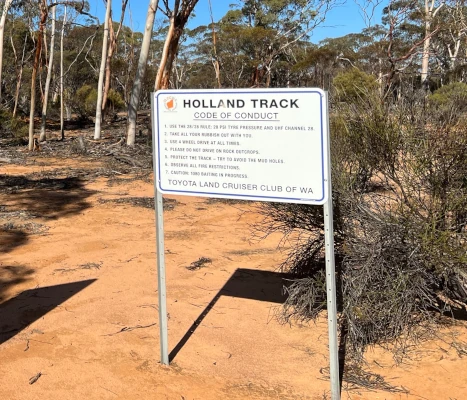 Latest Information
The Spring of 2023 will bring an inspection of the Track by club members led by our Holland Track Coordinator and a convoy of approximately eight vehicles. They will erect replacement signage, check on the live Malleefowl nest and the protective bollards that the club erected in 2017 (along with re-routing a short section of track). The crew will be prepared to tow a trailer – conditions permitting – to take out accumulated rubbish, car parts and the odd discarded tyre or two.
During 2022 two trips to Holland Track were conducted as per the club's Management Plan. The April 2022 trip was unusually wet and caught out the crew who had very tough conditions for the program of signage installation and rubbish collection.
As per the club's Management Plan during 2021 revised Code of Conduct signs were erected and some damaged HT signs replaced. Fallen trees removed and brushing placed to discourage use of too many deviation tracks.

At any time, you are welcome to contact the Toyota Land Cruiser Club of WA's Holland Track Office directly by email… hollandtrack@tlccwa.org.au
Join TLCCWA and help preserve the iconic Holland Track!
Experience thrilling off-road adventures while contributing to environmental conservation efforts with like-minded enthusiasts.
Join our community!
Stay up to date with all the latest
TLCCWA news and events