Time to Travel
The best time to travel the Holland Track is during Autumn and Spring. Spring is best because the wildflowers are at their best and the track has had time to dry out a bit after the winter rains. It is generally not so muddy, the days are warmer and the nights not too cold and there is less likelihood of rain. Unfortunately, these days the track is in a highly degraded state and if there is unseasonal rain the track becomes even more difficult to travel and should only be attempted by experienced four wheel drivers. So we advise:-
Travel during the milder months.
Avoid midsummer months as it is uncomfortably hot.
Avoid mid winter when it will be cold and wet.
At any time of the year we would recommend waiting at least 2 weeks after heavy rain to allow the track to dry out. It is not so much that you won't get through but it can be quite muddy and there has been a lot of track damage already in low lying areas.
Before you travel, please check out this website. It is for Mount Holland, which is part way along the track, at the Holland Track/Marvel Loch-Forrestania Rd intersection. If rain is indicated you are best not to travel. You could be in for more grief than you bagained for. In the last few years there has been severe damage done to many vehicles travelling in the wet conditions.
http://www.willyweather.com.au/wa/wheatbelt/mount-holland.html
Please watch out for other people on the track as it is almost exclusively single lane and may be busy especially at Easter and September/October school holidays.
28/28 Rule
In the interests of trying to maintain the track in better condition, we would like all travellers to adopt the 28/28 Rule. Please reduce your tyre pressures to 28psi and use UHF radio channel 28. The lower tyre pressures will help to protect the track and if everyone uses channel 28 there is a greater chance of you becoming aware of other travellers in your vicinity.
If you need any more information please contact us.We wish you an enjoyable trip along the Holland Track. Your report after you travel the track would be welcome. Please take some time when you get home to contact us regarding track conditions and other points of interest.
Trailers
Although some people do take trailers, we recommend against it to avoid damage to the trailer. In places the track is very narrow and passing oncoming traffic can be a challenge.
Contact Us
At any time, you are welcome to contact the Toyota Land Cruiser Club of WA's Holland Track Office directly by email… hollandtrack@tlccwa.org.au
Latest Information:-
May 2021
Erected revised Code of Conduct signs. Erected new location signs. Collected rubbish and replaced some damaged HT signs.
October 2018
Erected new Code of Conduct signs. Removed fallen tree and collected a trailer load of rubbish. Track becoming harder to use due to excessive damage done by people using the track in winter.
October 2017 – Malleefowl fence completed
Installed a barrier fence around the Malleefowl nest. Convoy of 7 vehicles. One member towed a bobcat to the site. Moved the track 80m from the nest, built a new carpark, blocked off the old track and brushed it. Erected new signage. Spent 5 days on site to complete the work.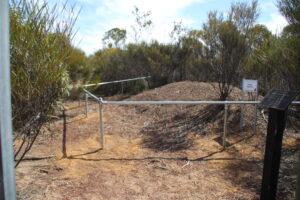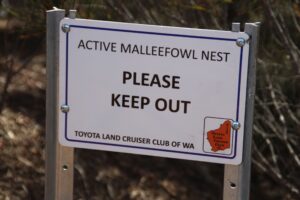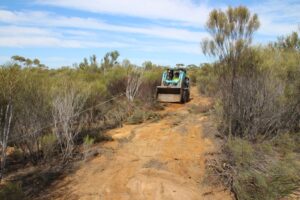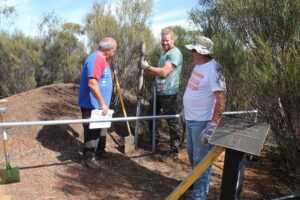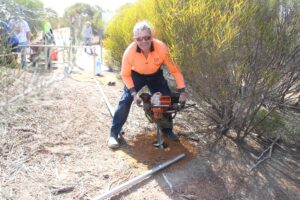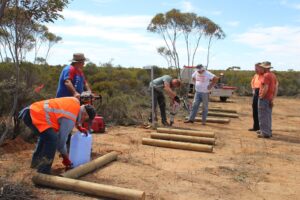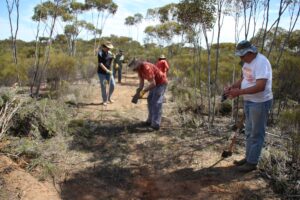 August 2017 – Malleefowl Nest Protection
Travelled to the Malleefowl nest which is approximately 23kms up the track from the Hyden-Norseman Rd to measure up and finalise plans to improve the protection of the active Malleefowl nest. We plan to erect a simple waist high barrier fence in front of the nest to prevent people walking on it. We are also going to re-route the track approx. 80 metres from the nest so as to minimise vehicle disturbance near the nest. The photos below show the amount of activity around the nest from April 2017 to late August 2017. The proposed works will be done from Sept 30th to Oct 4th 2017.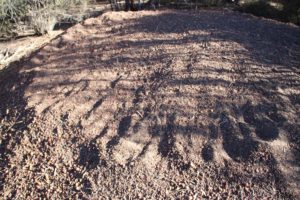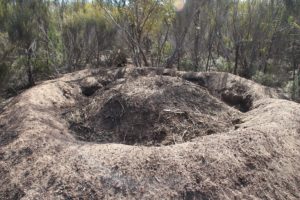 April 2017 -Track Condition Assessment
Travelled the length of the track to check its condition. There is still quite extensive fire damage around Mount Holland and it does not provide a pleasant campsite in its current state. We also removed a few fallen trees and blocked off unnecessary bypasses. The Malleefowl nest is clearly an active site. A lot of evidence of scratchings around the nest. We need to make plans to improve the protection of the nest.
October 2016 One of our coordinators has just returned from a trip to the track and found it to be firm and hard and quite enjoyable to travel, with numerous bog holes, some still filled with water. There are by-pass tracks round the bad ones but would not recommend towing as some are very tight to manoeuvre around.  Also the bush is recovering well after recent bush fires with young trees growing right up to and encroaching onto the track.  Passing would be extremely difficult to impossible  if you were to meet on coming traffic in these sections as the growth is rather thick,  and in some places you may have to back up several kms.  The track has been over-used during the wet so it is still a bit rough in sections and will take some time to recover.  But still a great historic  4×4 destination for you to enjoy.  Should take you about 3 days travelling at 20 kms per hr.
August 2016 – Generally ok to travel since end May
Travelers have reported the track is mostly dry. A few bog holes are muddy, but can be easily bypassed. Of course rain can fall at any time and change the situation overnight. PLEASE AVOID BOG HOLES, TAKE CARE NOT TO DAMAGE THIS HERITAGE TRACK.
April 2016 – Impassable from Banker-Mount Day Rd South to Hyden
TLCCWA has been informed by recent travelers that as at April 2016 due to heavy rain, the Holland Track is impassable from Banker-Mount Day Rd South and Hyden. There are massive holes, deep mud and water everywhere. Please do not damage the track by attempting to pass in such conditions, make alternative arrangements around this area or wait for dry weather to return.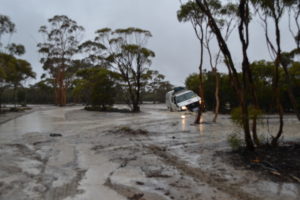 November 2015 – Fire at Mt Holland
We have been advised that a severe bushfire has burnt the area around Mt Holland. The track up Mt Holland has been cleared by a local contractor but the condition of the track either side of Mt Holland is not clear. Fallen trees could be a hazard. Update as at Mar 2016. The fire did not impact much of the track and it is clear of fallen trees. Burnt HT signs have been replaced and the camping area at the base of Mt Holland has been cleared of (considerable) rubbish – please keep it clean for others. All of the small vegetation has been burnt and the area is very open – it will not be an attractive camp until a couple of years of regrowth comes through.